🥭 It Takes Two to Mango 🥭 NOW IN SEASON!

😎 Gimme S'more 😎 NOW IN SEASON!

FREE SHIPPING on orders over $70

Special orders or events, call us at (818) 646-6242
It Takes Two to Mango NOW IN SEASON!

Gimme S'more NOW IN SEASON!

FREE SHIPPING on orders over $70

Special orders, call (818) 646-6242
Toffee Prices:
4 oz Bags: $8.00 / 8 oz Bags: $15.00 / 1 lb Gift Boxes: $32.00
Off-Season Minimum Orders: 4 oz Bags = 12 minimum / 8 oz Bags = 6 minimum

Toffee Prices:
4 oz Bags: $8.00
8 oz Bags: $15.00
1 lb Gift Boxes: $32.00
❖
Off-Season Minimum Orders:
4 oz Bags = 12 minimum
8 oz Bags = 6 minimum
Milk Chocolate Almond
Always a favorite, our original toffee is handmade with simple, quality ingredients. Sweet cream butter with pure cane sugar and slivered almonds create a rich, decadent center. Layers of creamy milk chocolate and roasted almonds on both sides create a melt in your mouth buttercrunch.
It's the perfect gift for any occasion or a treat to indulge yourself.
Dark Chocolate Hazelnut
A match made in heaven – hazelnuts are the perfect pairing with dark chocolate. We use a high quality 60% cacao dark chocolate and roasted hazelnuts. The ideal gift for dark chocolate aficionados, those who are health conscious, or prefer a scrumptious not-so-sweet confection.
For an impressive dessert, serve our dark chocolate hazelnut toffee with a rich red dessert wine, such as a Port or Sherry.
White Chocolate Pistachio
Pistachios have a distinctive green and purple hue and mild flavor that stands out from other nuts. The roasted nuttiness of pistachios balances the sweet white chocolate for a truly extraordinary flavor.
Serve our white chocolate pistachio toffee with a Riesling or Moscato wine, and cheese for the perfect party platter.
Toffee Bits
Sprinkle on ice cream or yogurt, bake into your favorite cookie recipe, or grab a handful to satisfy a sweet craving. We take our three classic flavors and chop them into bite sized bits so they're ready to use any way you like.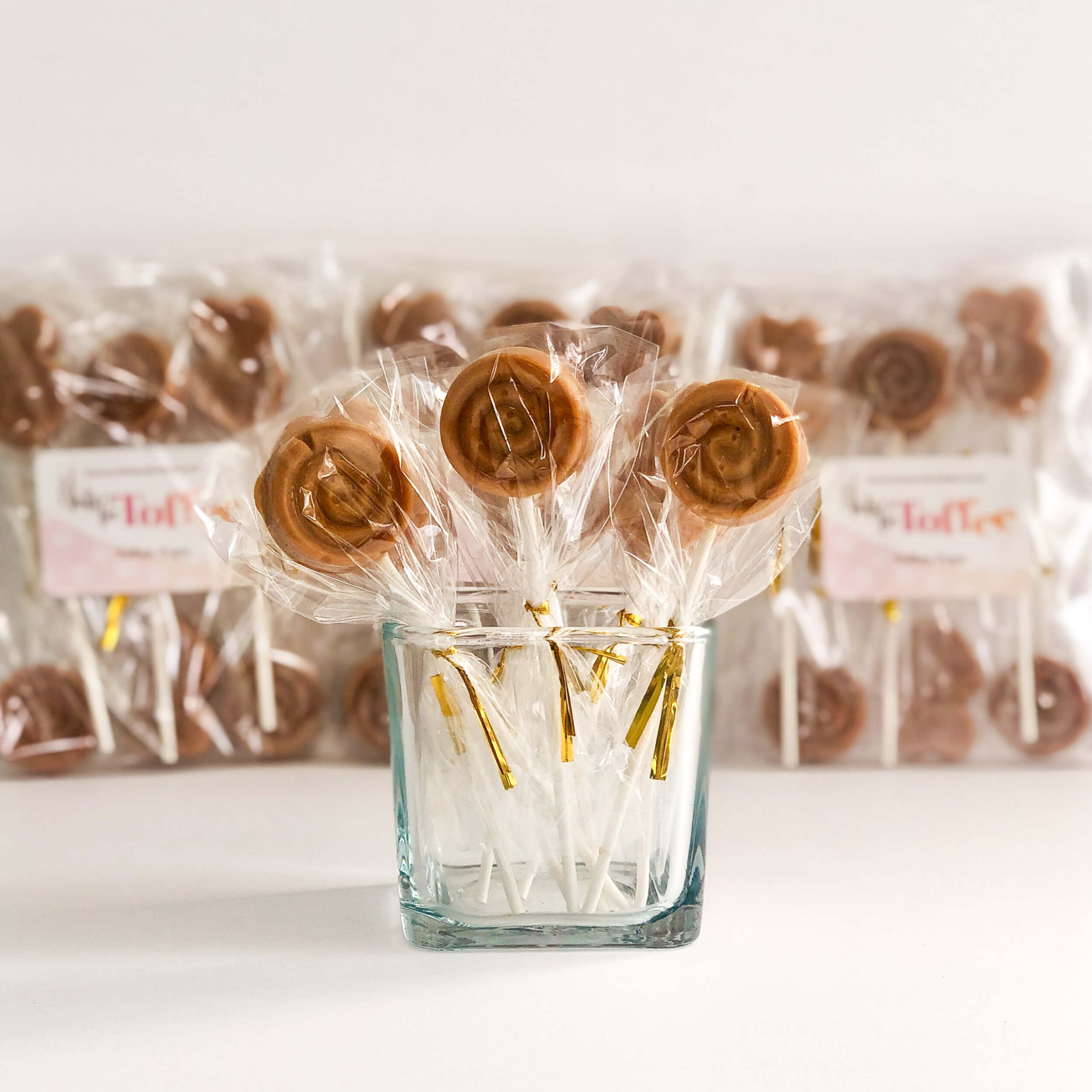 Toffee Pops (Pack of Six)
For the toffee purist that loves the buttery caramel center of our buttercrunch, this is for you. No chocolate or nuts. Just pure toffee with a hint of vanilla, in a lollipop. Who doesn't like sweets on a stick?
Strawberry Is My Jam
Bring back memories of strawberry flavored milk from your favorite childhood cereal. Freeze-dried organic strawberries mixed with white chocolate, buttery shortbread cookies, and almonds create a sweet, fruity buttercrunch.
Each small batch contains the equivalent of 2 lbs. of fresh strawberries.
Seasonal Flavor : January – March
Minimum order in effect
Matcha Do About Nuthing
Organic culinary grade matcha green tea powder blended with white chocolate, and coated with roasted cashews create a truly unique buttercrunch. Rich nutty cashews and mildly bitter matcha create a distinct bittersweet flavor reminiscent of the green tea ice cream at your favorite Japanese restaurant.
Seasonal Flavor : February – April
Minimum order in effect
You're My Squeeze
Spanish Marcona almonds put this toffee over the top – sweeter and moister than classic almonds, with a buttery flavor and softer texture. This luscious citrusy toffee is layered with dark chocolate, glazed orange peel and Marcona almonds.
Daniela created this popular flavor in homage to her mother, who is from Spain and loves dark chocolate with orange.
Seasonal Flavor : April – June
Minimum order in effect
Gimme S'more
The traditional campfire treat loved by kids of all ages gets an extra layer of yumminess with a buttery almond center. This toffee is coated with semi-sweet chocolate, then topped with graham crackers and gooey roasted marshmallows. Our chocolate-y, marshmallow-y, delicious buttercrunch will leave you wanting more.
Seasonal Flavor : July – September
Minimum order in effect
It Takes Two to Mango
Reminiscent of the popular Mexican chili mango candy, this toffee combines sweet, salty, and tangy flavors with a little heat that will make your taste buds dance. Layers of rich dark chocolate, sweet mango, roasted peanuts, chili oil, chamoy, and Tajin create an unforgettable buttercrunch for toffee lovers that want a little kick.
Seasonal Flavor : May, September – October

Spice It Up
Welcome the holidays with seasonal Fall flavors of pumpkin spice, cranberries, and pecans. White chocolate coated with buttery roasted pecans, tart cranberries, and a sprinkle of pumpkin spice make a homey buttercrunch that's a must have at the dessert table.
Seasonal Flavor : October – December
Minimum order in effect
Candy Cane Crunch
What are the holidays without peppermint? We create a truly special toffee with a crunchy center flavored with peppermint oil, and layered with rich dark chocolate and crushed candy canes. We thoughtfully leave nuts out of this recipe so that everyone can enjoy this toffee for the holidays. Share the joy!
Seasonal Flavor : November – December
Minimum order in effect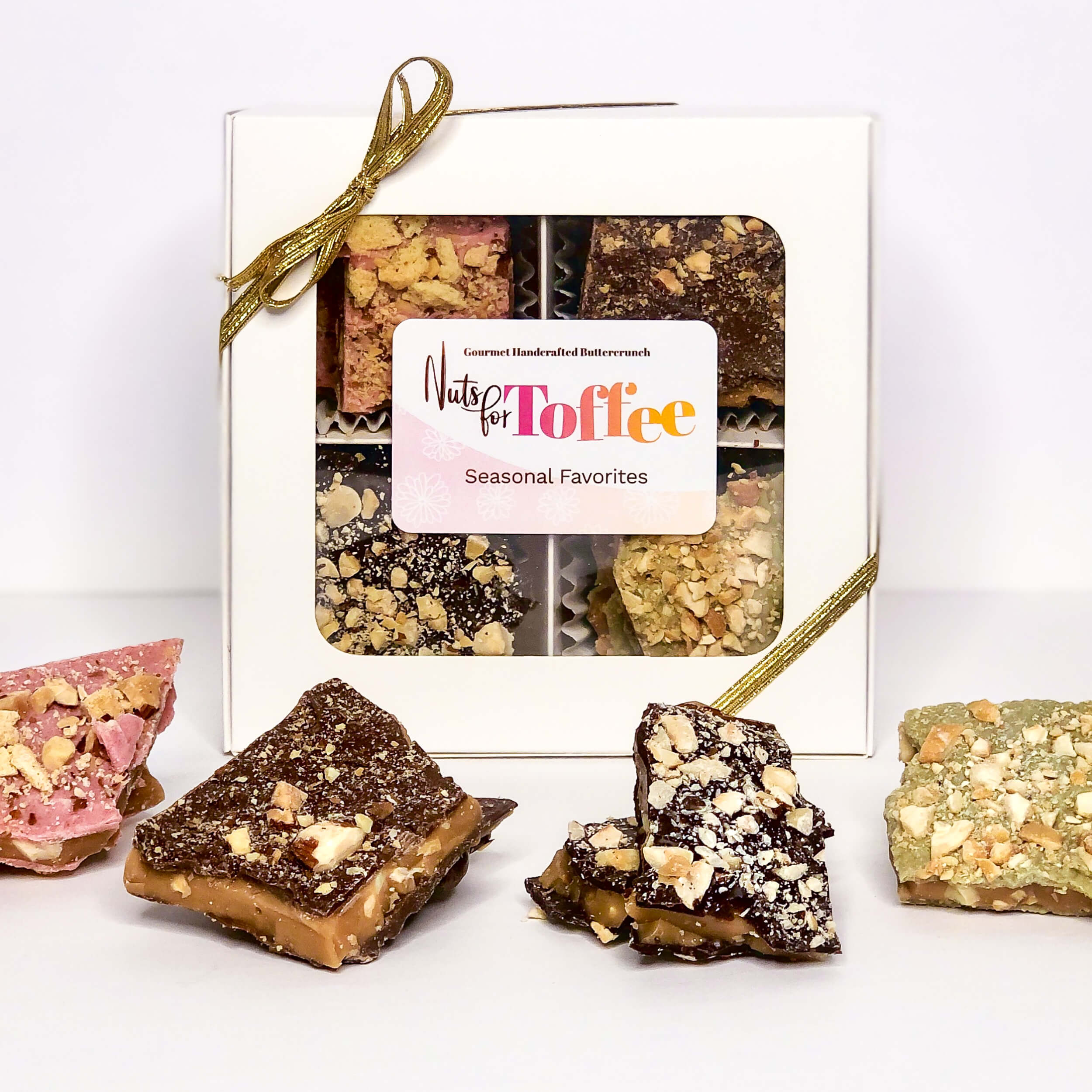 Seasonal Favorites
Share the joy of gourmet handcrafted buttercrunch with family, friends, and anyone who deserves a little something special! Our 1 lb. Seasonal Favorites box offers two classic flavors and two in-season specialty flavors, for a truly unique gift any time of year.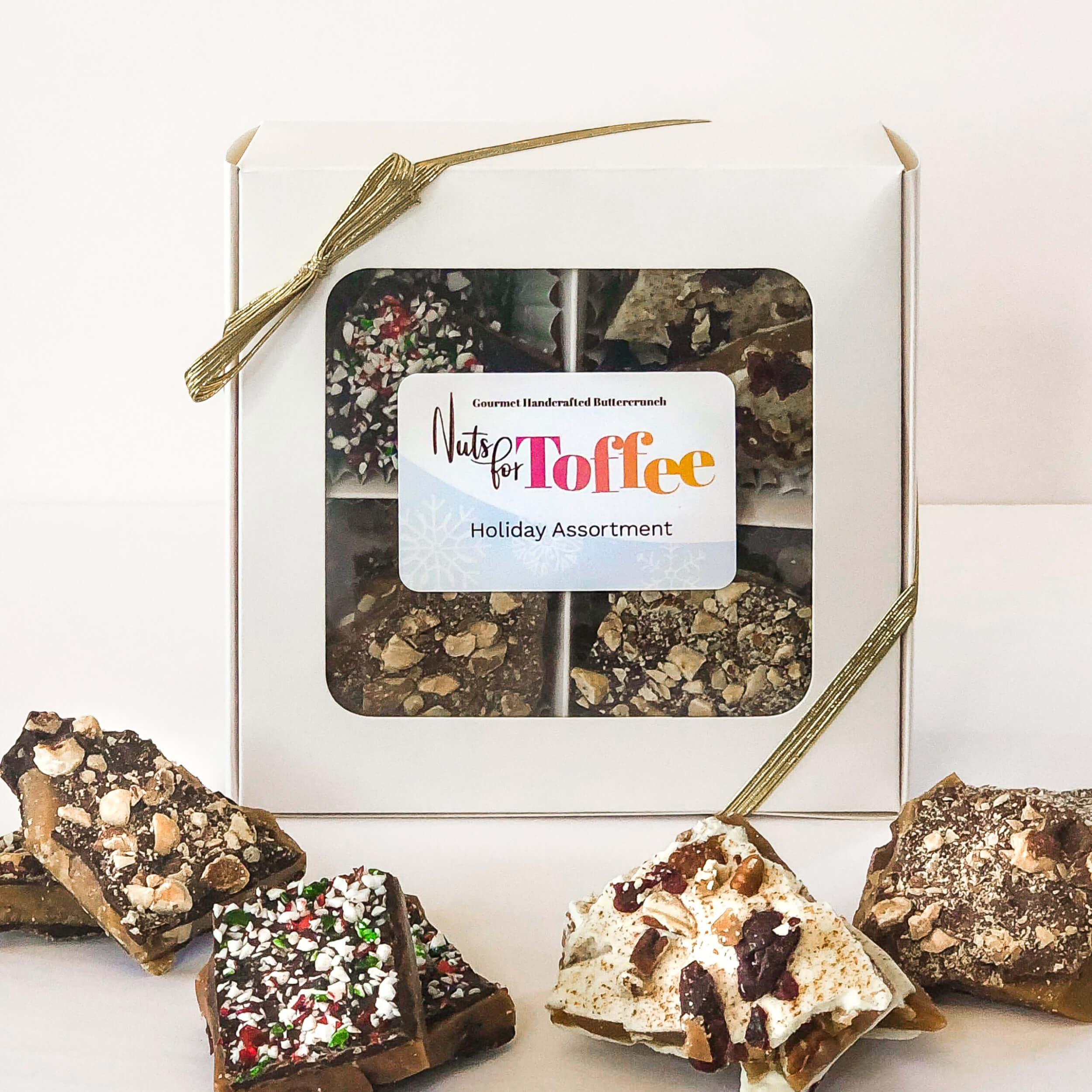 Holiday Assortment
Try our 1 lb. Holiday Assortment box for a sampling of NFT's most spirited seasonal flavors, finished with a gold ribbon and ready for gifting. Toffee flavors include Spice It Up, Candy Cane Crunch, Milk Chocolate Almond, and Dark Chocolate Hazelnut.
Seasonal Flavor : November – December
Minimum order in effect
gourmet handcrafted buttercrunch
Place your order now, for pick-up, delivery, or domestic shipment